The Constellation Sextans
by Dominic Ford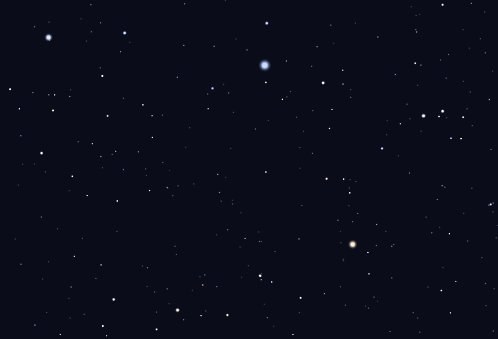 The constellation Sextans. Roll mouse over to see labels.
Source: Stellarium.
Sextans is a faint equatorial constellation which appears highest in the evening sky in the months around February.
It was introduced by the Polish astronomer Johannes Hevelius in 1687, covering a dark patch of sky immediately south of Leo, and represents a sextant, an instrument used to measure the positions of stars. Specifically, it represents Hevelius's own sextant, which was destroyed by a fire at his observatory in Danzig in 1679.
Its brightest star is of magnitude 4.5, and it contains no bright deep sky objects.
Date First Appeared
1687 (Hevelius)
Sky Area
0.8% of the sky
313.5 square degrees
Messier Objects
Sextans contains no Messier objects
Caldwell Objects
Sextans contains the following Caldwell object:
C53
.
Brightest Objects in Sextans
| | | | |
| --- | --- | --- | --- |
| Stars | Open Clusters | Globular Clusters | Galaxies |
Share
Follow